The best beaches in Croatia
The best beaches in Croatia
Beach, sun, nightlife and medieval architecture at a very affordable price.
Perfect for a boating holiday with friends or family, Croatia offers 1,244 islands, 6,278 kilometres of coastline, charming cities with cosy medieval architecture and many points of renowned cultural interest.
Here we present our list of the best beaches in Croatia to visit by chartering your yacht.
1 Hvar / Palkleni:
Without a doubt, it is one of the most attractive tourist destinations in Croatia. It is the longest island and the one that receives the most hours of sunshine per year in the entire Adriatic Sea, with a mild climate and a scent of lavender, rosemary and pine. There are endless coves in which to relax, crystal clear waters to bathe in and long paths to great coastal walks.
Bonj beach has become a select holiday destination frequented by figures such as Giorgio Armani and Bill Gates. It offers tranquillity and anonymity, but also there is a wild party from mid-afternoon until the sun rises again. Near the port is the Carpe Diem bar, where the atmosphere begins to liven up around six in the afternoon, between beers and cocktails.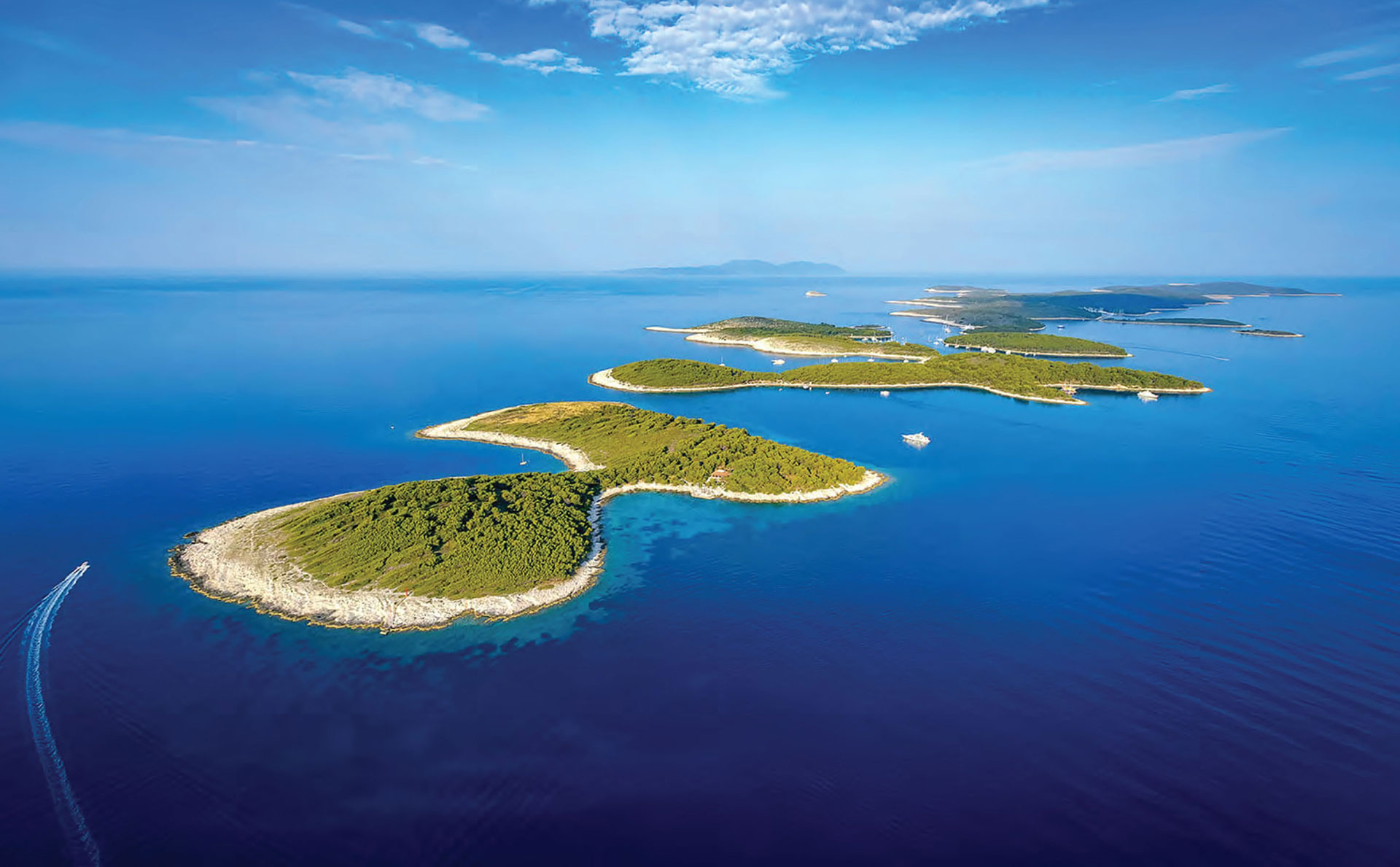 With your private yacht you can disembark directly at a discotheque which is located, strategically and exclusively, on a nearby island. But beforehand, the Kiva Bar is an obligatory stop to take a Helmet Shot, a drink that is taken in one gulp after delivering several strong blows to a steel helmet placed on your head. A chic atmosphere, shows and outdoor space where the party is guaranteed.
2 Brac:
To speak of the island of Brac is to speak of Zlatni Rat, located in Bol, an enclave also known as The Golden Horn. One of the most spectacular beaches in Croatia, with crystal clear water and a spikey spit of sand that extends up to 500 meters into the sea. With your private yacht you can anchor a few meters from it and enjoy its beauty from the comfort of your yacht.
3 Korcula:
According to the locals, Marco Polo was born on this island in 1254, into a Venetian merchant family established here. The truth is that there is no evidence to corroborate this story, but Korcula does maintain the essence of a merchant town, with cobbled streets and a unique charm. Lumbarda beach, just six kilometers from the town of Korcula, is one of the most visited on the island and ideal for enjoying fresh fish and a cold beer at a beach bar. One of those magical and pleasant moments that mark a vacation forever.
Within this island you can also visit Pupnatska Luka where you will be able to appreciate one of the bluest waters in the region. Located in the south of the island, it is one of the most beautiful rocky beaches on the Dalmatian Coast. Excellent for swimming in its crystal-clear waters but not very comfortable for walking or sunbathing. We suggest visiting the beach by tender where you can find a comfortable place to rest after a relaxing swim. This beach has little access and is very quiet, excellent for those looking to escape from the most touristic spots. There are some small restaurants that offer delicious salads and local fish.
4 Vis:
Almost completely hidden from the view of passing ships, Stiniva Beach on the Croatian island of Vis bears a resemblance to the lair of villains from the James Bond movies.
But it is no longer a secret. In 2016 it was named the best beach in Europe by the Brussels-based tourism organization "European Best Destinations" after a survey of more than 10,000 tourists.
Its inaccessibility is part of its appeal. Vis is the furthest inhabited island on the Croatian mainland; Beyond Brac and Hvar, it is more than two hours by ferry or catamaran from Split. The beach can only be reached by walking down a steep and narrow path or by taking a taxi from the nearby cove at Rukavac.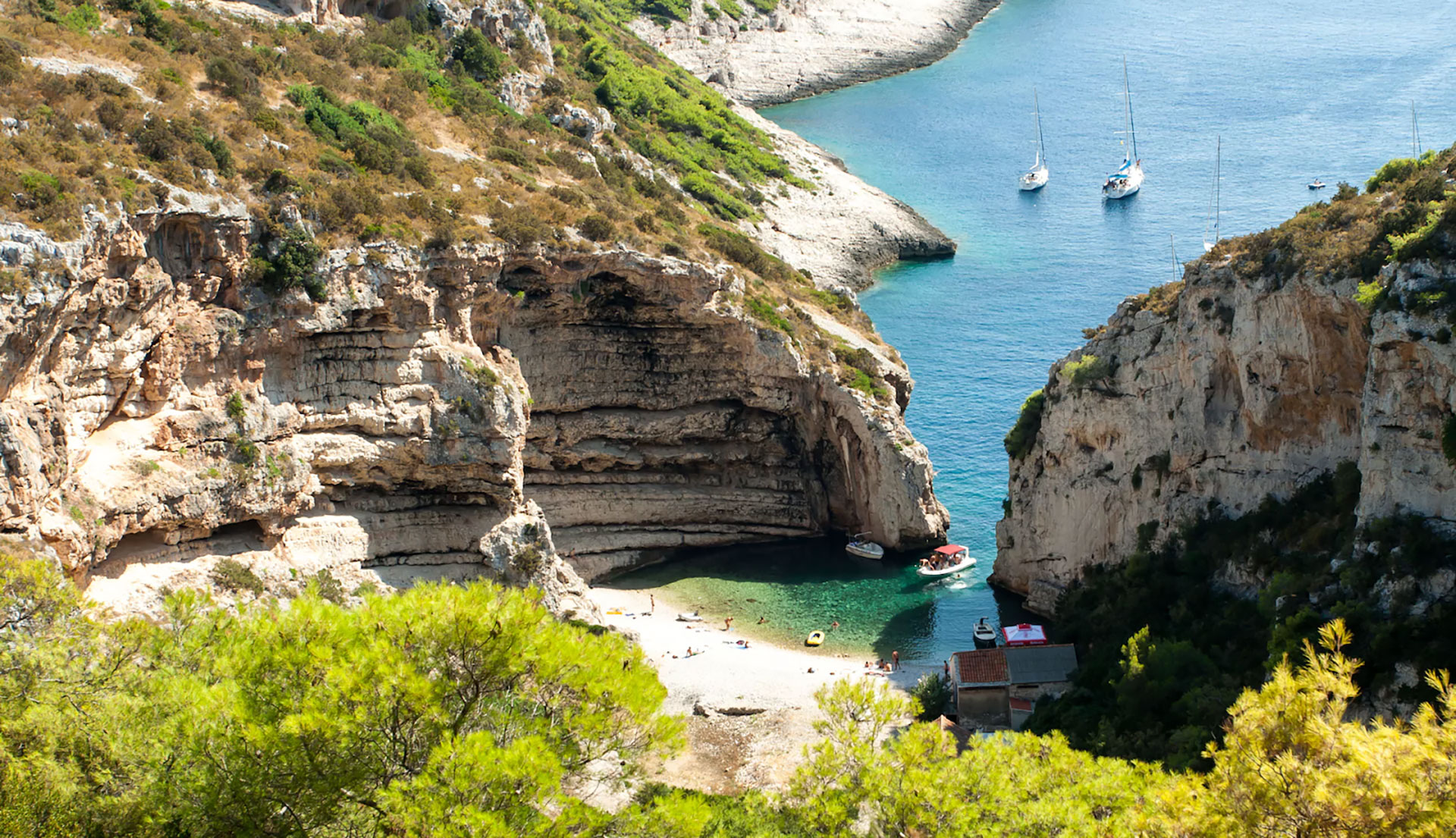 That is why we recommend going with your private yacht and using the tender, as only boats small enough to pass through a space of just a few meters in the cliffs can pass
Bonus:
Krka River National Park.
Croatia is home to nine natural parks, but this one in particular stands out for being the only freshwater one where bathing is allowed. A deep immersion in nature along 72 kilometers of coastline in which you can see an infinity of birds, fish and rich flora is worthy of a 'selfie'.
Learn more about Croatia and find the best yachts to cruise its islands.